How to Install Human Hair Weft
Human hair wigs
have always been favored for their convenience and ready-to-use way, but since their rise, human hair weft has always had an irreplaceable status. Human hair weft is widely used in extension, change hairstyles, increase hair volume, etc. It has become a blessing for many people around the world who want to protect their hair from damage. But, what is human hair weft and how to install human hair weft, let's see.
What is human hair weft
Human hair wefts are neat bundles of human hair, woven horizontally on lace or silk cloth strip to look like a weft. The width of the human hair weft of different sizes is not fixed. Generally, the weight of the weft is about 100g. In the case of constant weight, the longer the hair bundle, the narrower the width of the weft.
How to Install Human Hair Weft
l Combined with closure or frontal, sew in human hair weft with 
human hair closure
or human hair frontal
l Sewing in human hair weft
l Glue human hair weft
Sew in human hair weft with closure or frontal
Many people want to use 3 or 4 hair wefts to create a perfect hairstyle, which can be combined with hair closure or frontal, this is the best way to have stunning hair at the best price. Let's take a look at how to install it.
1. First determine the size, install hair closure or frontal.
2.Sew the hair weft to the closure or frontal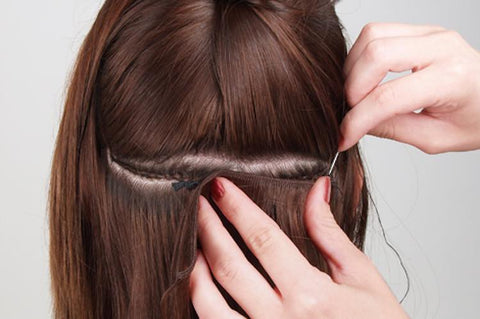 Sew in
human hair weft
Many people sew human hair wefts to extend, thicken, or change hair color. Because it's hard to damage their hair and more realistic and natural than wigs. By the way, it is the most common method of installing human hair wefts.
Step 1: Prepare your natural hair by washing it clean before sewing to gain the perfect result after finishing.
Step 2: It is time to make cornrows. Take a few hair strands and braid them firmly small horizontal lines.
Step 3: Thread the needle and start sewing the weft directly onto your track for a seamless look.
This method suits all types of hair. But this is not recommended for those whose hair is too weak, fragile or damaged.
Remember to shampoo your hair regularly and prevent over styling with heat can help your sew-in weft hair last longer.
Moreover, because of the tight braid, it will take time to dry hair after washing. So when drying hair with extension, you had better dry in small horizontal parts.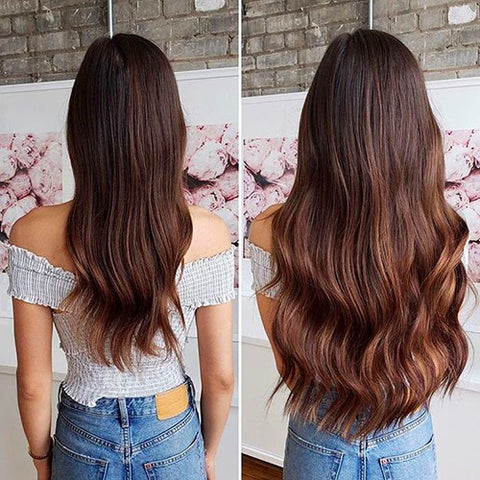 Glue hair weft
In my opinion, the glue-in method is the easiest and fastest one! However, it may be the most damaging too. It all depends on the sew-in weave installation. You can apply this one of two ways.
The first way you can glue in hair weft is by braiding or laying your natural hair down and placing a weave cap over your head. The cap is acting as a barrier between your hair and the glue. Once intact, measure the track needed per layer, glue, and apply pressure to the head. That's it! Really easy! This style is normally called a "quick weave," and we can see why!
The second method is the same but minus the cap. Some people don't mind having the tracks glued directly to their hair. There's also a special type of glue that's made just for that option. It's more like a molding gel that gets applied to your whole head, let dry, then apply tracks.
Glue in hair weft can be a great option if they are done right. Make sure to follow our tips in order to achieve great results with glue in hair wefts.
Today I have explained what human hair weft is and how to install it.
What's your favorite way to install it?
---